An 18-member syndicate from Newry, Northern Ireland won a quarter of a million pounds in the EuroMillions on Friday, March 29th, 2019. The Tinnelly Group syndicate will share the winnings evenly, leaving each member with a £14,000 upgrade to their bank accounts.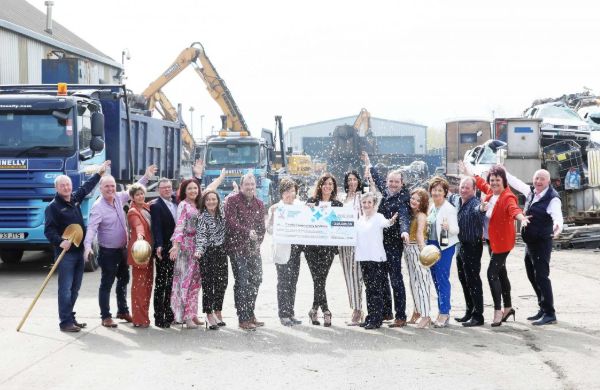 They all worked together at the demolition company Tinnelly Group Ltd. and they would put money together to buy EuroMillions tickets for the Friday draw. Michelle O'Hare from Warrenpoint, the syndicate manager, would usually buy the tickets for the entire month from her local shop.
But just before the March 29th draw, there was a change in plans. Michelle was at a wedding, so she asked her colleague, Gareth Tinnelly, to buy the tickets that time. He got them at Mulkerns Eurospar, a shop close to their company HQ.
This turned out to be a very lucky change for the group because it made them rich. However, it took a bit before they got the good news. The ticket stayed untouched on Gareth's desk for over a week before Michelle thought to check it.
She took it with her and checked it at the shop, as she always does, but this time, she told her that she needs to contact the National Lottery because she won a large amount. She immediately checked the ticket on her phone and found out they had won £253,489.30. She doublechecked the ticket and even asked some friends and family to check as well.
Convinced that it was all true, she contacted the National Lottery and got the confirmation for the good news. Then, Michelle and Gareth came up with a plan to tell the rest of the syndicate members about the win on the following Monday morning.
"For the first time in forever, I was looking forward to getting up early to go to work on a Monday.", said Michelle. They told everybody that they had forgotten to buy lottery tickets over the weekend, but that they had placed a bet in the Grand National on Saturday instead. They gave everybody an envelope and told them that whose envelope contained the name of the winning horse would win £500.
The contents of the envelopes actually said that they had each won £14,000. "They soon realised what had happened and it wasn't long before everyone was jumping around, hugging each other, cheering and crying for joy. It was a brilliant moment that I'm sure none of us will ever forget."
The 18 co-workers even got the afternoon off to go to the pub and celebrate their EuroMillions win. "We really had a smashing time", said Michelle. The Tinnelly Group syndicate is only one of the many amazing syndicate winners. If you want to try the syndicate experience, play EuroMillions online and buy your very own share! Good luck!