The EuroMillions lottery is starting the year with a bang. After announcing a change of the rules right before the holidays, the European lottery set the date for the next EuroMillions SuperDraw: Febuary 7th.  Tickets are already available online. So, make sure you put your numbers in time for the draw.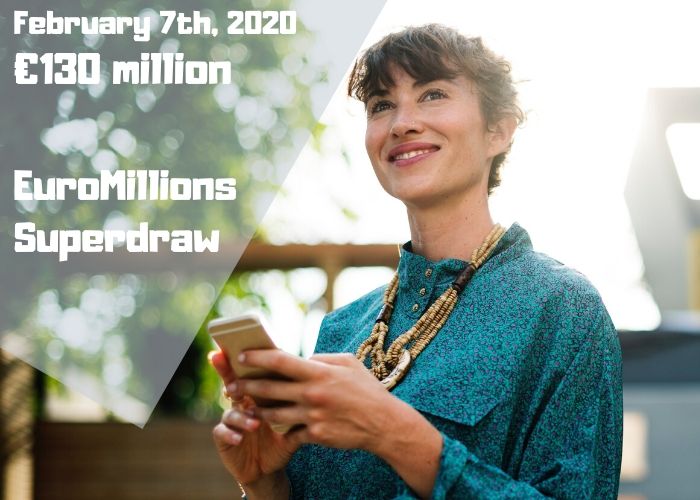 EuroMillions promised us bigger and better prizes in 2020. The European lottery will have new rules starting February 1st. The play format and the ticket price remained the same, but the prize structured changed so that a bigger percentage of the sales revenue goes into the jackpot prize tier, making it grow even faster than before.
The new prize structure also allows putting more money into the reserve fund. This is why the European lottery officials promised to organize more special promotional draws known around the world as EuroMillions SuperDraws. There will be on average three such draws a year and the next EuroMillions Superdraw will take place on February 7th, 2020. This falls just on time to celebrate the new rules of the game!
The EuroMillions SuperDraw Jackpot
We know it, all players have their eyes set on the jackpot. It's understandable when it starts at a guaranteed €130 million.  Moreover, it can grow with each draw if nobody matches the winning numbers until it reaches €200 million.
€200 million? Yes, the jackpot cap grew from €190 million to €200 million, with the potential for it to grow even further once it is reached. If until now the growth of the jackpot was stopped once it reached €190 million, starting February, the EuroMillions jackpot grow until reaching €200 million. If the top prize reaches the cap level, it will not grow any further. Any additional funds that should go into the jackpot fund will flow down to boost the prize fund for the next highest tier where there is at least one winner.
FAQs about the EuroMillions SuperDraw on February 7th
What is the starting jackpot?
The initial jackpot stands at €130 million. The amount can grow with each rollover until the jackpot cap is reached.
How big can the jackpot get?
The jackpot can grow up to €200 million. This is the new jackpot cap for the EuroMillions lottery?
Can I buy tickets online?
Yes, you can buy official tickets online on theLotter. It is safe and comfortable.
Can I buy my tickets in advance?
Yes! When you play online on theLotter, you can purchase your tickets in advance.
Is this the first EuroMillions SuperDraw of 2020?
Yes, this is the first special draw of the EuroMillions lottery this year. According to the new rules, there should be two more such draws until the end of the year.