January 1st is one of the shortest days of the year, as most people usually spend it resting after the booming parties on New Year's Eve. This was not the case for Frances and Patrick Connolly from Northern Ireland. On the very first day of 2019, they found out that they've won €129.6 million in the EuroMillions.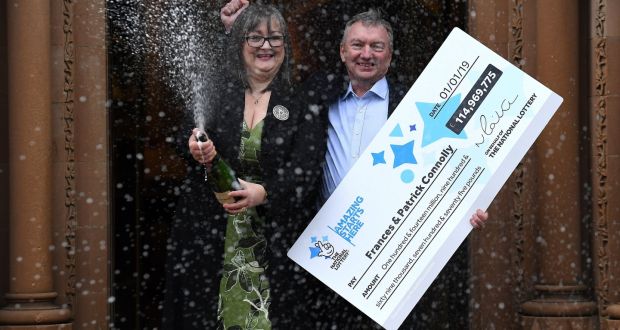 On the press conference held Friday, January 4th, 2019 at Belfast's Culloden Estate and Spa, the millionaire couple spoke about their evening. They said that while they felt overwhelmed, they managed to keep their celebration to a low level.
We don't really do excited – perhaps I raised my voice just a bit at the time when I found out – but we celebrated with a cup of tea and a hug.", said Frances Connolly.
Patrick said that they had played EuroMillions online and on January 1st, he checked his numbers. He looked up the winning combination on several sites and then looked at his wife and said "Do you want to hear the good news?".
While there may not have been any champagne that evening, the Connollies still couldn't sleep a wink that night. They said that they called Camelot first thing in the morning to confirm the information and just like that, it was final. They had actually won the €129.6 million.
What's Next for the Big EuroMillions Winners?
Asked what they plan to do with their huge EuroMillions jackpot, the Connollies seemed to have a pretty clear idea. Like most lottery winners out there, they intend to share it with their friends and family, but the Northern Ireland winners already have 50 names on their list. They said that the people on their lotto list don't know that they are on it just yet.
"It's going to be so much fun giving it away. The pleasure for me is going to be seeing people's faces," said Frances. Then, Patrick continued. "I've got a wonderful wife, a wonderful family and wonderful friends, so this is the icing on the cake. Money doesn't bring you happiness. We already had happiness and were very blessed in life."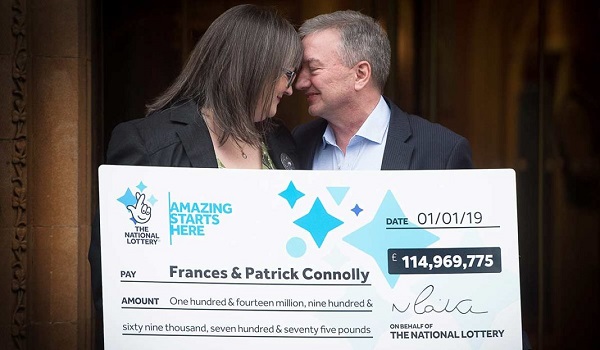 Frances Connolly Saves Her Sister's House
It didn't take long for the Connollies to put their lotto give-away plan in action. The first name on their list was Frances' sister, Sharon Bordessa, who was on the brink of losing her home. She had put her house on the market back in 2017 and she moved in with her mother to care for her.
Then, she was supposed to sell her house to buy her mother's, but as it turned out, the money from Sharon's home wasn't enough to buy out to make the purchase. The sale on Sharon's house was due to be finalized in the upcoming weeks, and she stood to lose both her homes in the process.
That's when Frances stepped in and gave her the good news. "Me and Paddy have won the Euromillions and you don't have to sell your house", she told Sharon. Luckily, Frances managed to save her sister's house in due time. The joy of the New Year's EuroMillions jackpot is already spreading!
An Academic Future for Patrick Connolly
The Connollies are intent on using their EuroMillions prize to explore their biggest plans and dreams. Patrick, aged 54, is now retired after a career in the voluntary sector. He said that he is "still digesting" this chapter of his life, but he is certain that this is a phase that will not last long.
"I've wanted to do my Ph.D. in clinical psychology and I can afford to do it now.", he said. It seems that Mr. Connolly has very big plans for his lotto winner life.