This is really an incredible story. A man who escaped the war in Kosovo looking for a better life in Europe and who has been living as an undocumented worker in Belgium for many years has won the huge €168 million EuroMillions Superdraw jackpot!
We don't know the identity of this big jackpot winner, as he has elected to remain anonymous. We do know that he spent €15 on tickets for the 11 October 2016 draw. According to media reports, the winner is a father of four who loves football and Robert De Niro movies. He reportedly worked at Schaerbeek Propreté, a waste management service in Schaerbeek, Belgium.
Superdraw Jackpot Win – Biggest Belgian Win Ever
The Superdraw jackpot win was the biggest ever by a player from Belgium. In fact, players from Belgium have only won three times in this special draw. The first time was at the first Superdraw ever, in February 2007. A Belgian player won the jackpot outright in the first draw and pocketed a nice sum of €100 million.
A few years later, the Superdraw jackpot of June 2013 rolled over 5 times until it reached €187 million and was split between players from Belgium and Ireland.
Although the latest Superdraw jackpot was not as big as that, the Kosovo refugee did pocket the largest sum ever pocketed by a lottery player from Belgium.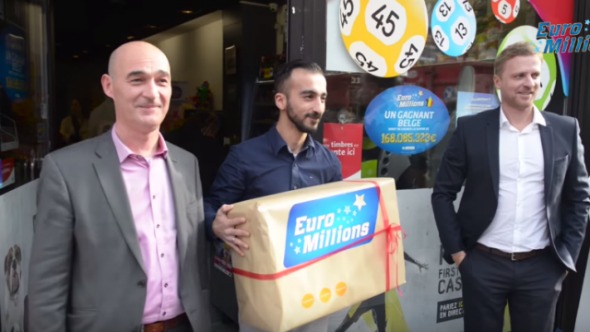 While we don't know the jackpot winner's identity, what do we know about him? He bought his winning ticket at the Librairie de l'Europe shop in the Schaerbeek district of Brussels. He worked at Schaerbeek Propreté, a waste management service in Schaerbeek. His coworkers say the jackpot winner has not shown up for work since the big win. But then, why would he?
In conclusion, with the jackpot win by a Kosovo war refugee it seems like anyone can win the EuroMillions jackpot. Want to be the next big winner? Play EuroMillions online today!