A family syndicate from Ireland won the whopping €175 million EuroMillions jackpot on February 19th! This historic win makes them the biggest group winners ever in this European lottery! The title previously belonged to the Irish Lottery Syndicate which held the record with their €88.5 million jackpot won in 2017.
The family syndicate comes from Naul, in north County Dublin, and they chose a spokesperson, who is married to one of the syndicate members, to represent them.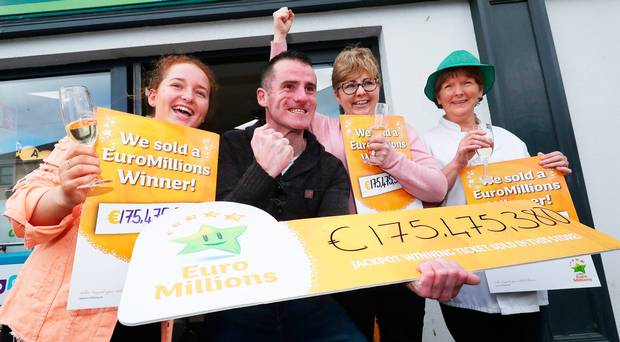 How Did They Find out About the Win?
One of the family members was watching TV when she heard that there was a win in Ireland, and then she checked the numbers online. They were all shocked by this amazing news!
"I checked the rest of the numbers online. I was numb! It took a bit of convincing everybody that we had won."
She was storing the winning ticket in an Argos catalog under her mattress, waiting for the February draw. The family deposited the ticket with the National Lottery for safe keeping, and they are now in the process of having their prize paid in the next weeks.
Becoming Local Celebrities
The lucky family lives in the rural area of North County Dublin. After their amazing EuroMillions win the whole town was buzzing with excitement.

They bought the winning ticket at Reilly's Daybreak, a small shop in Naul. Les Reilly, the owner of the shop, was in total shock and disbelief when the lottery authorities contacted him! He also couldn't believe how the small rural village came to life celebrating their neighbors' luck.
"I've never seen a buzz or anything like this. The whole village – a small village in rural county – it's just buzzing, it's just amazing."
Ireland has become the luckiest place in the world to play EuroMillions. The Dublin family who won €175 million is the largest syndicate winner in the history of EuroMillions. There are other amazing success stories you should know about so check them out to find inspiration!