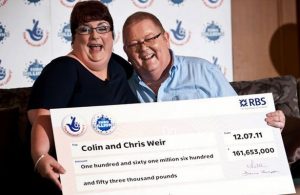 After 38 years of marriage, two of the most popular EuroMillions winners of all times, Chris and Colin Weir are getting a divorce. When they scooped their €186 million EuroMillions jackpot back in 2011, the Weirs took some lovely publicity photos holding the oversized cheque together with glasses of champagne in their hands.
Now, eight years after their legendary win, the Scottish couple from Largs, North Ayrshire, has announced that, regretfully, they will be parting ways. The official statement said 'It is with deep regret that Chris and Colin Weir confirm that they have been living apart for some time and are applying for divorce amicably."
According to the latest news, Colin Weir signed off their £3-million mansion in Troon, Ayrshire to Chris last year. Then, he purchased a £1.5 million seafront house in the same area, where he will most likely move in. The official statement also said, "They ask that the family's privacy is respected at this time and there will be no further comment."
At the time of their win in 2011, the Weirs made the Sunday Times Rich List and over the years, they have used their EuroMillions money to give back to the community. In 2013, the EuroMillions winners set up The Weir Charitable Trust to donate to a local junior football club.
The Patrick Thistle Football Club was in debt, but the Weir's donation enabled them to continue their activity. Then, Colin Weir became the club's patron. He donated £1 million to upgrade the facilities and it was eventually rebranded as Thistle Weir Youth Academy.
As a sign of their appreciation, the academy named a section of the Firhill Stadium after him. They also made some very large donations to the Yes Scotland campaign before the 2014 independence referendum, as well as the SNP.