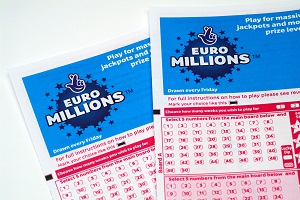 A very lucky Brit scooped a £71 millions jackpot in the EuroMillions lottery on Friday, March 15th. The very next day, the big winner contacted Camelot and came forward to collect this amazing prize and opted to keep his identity private.
The winning numbers for the big prize were 3-15-24-42-46/09-12 and the British winner was the only one to match them all. As it turns out, the UK is on an impressive winning spree in the EuroMillions. Only last November, Andrew Clark, 51, found himself £76 million richer after he discovered a lost lottery ticket in his van six weeks after the draw took place.
Mr. Clark and his partner, Trisha Fairhurt, then moved into a four-room house complete with an indoor pool, triple garage, and personal gym. He also purchased an £80,000 Mercedes-Benz and a Nissan Qashcai.

In January 2019, Frances and Patrick Connolly came forward to collect a huge £115 million EuroMillions jackpot, making their way into the lottery's top 10 winners list.  The Connolly's were so surprised at their good fortune that it took them quite a bit for the good news to set in. They celebrated their win with a cup of tea.
During the press conference, Frances Connolly said "The only thing I ever won was a guess the number of sweets in the jar, and four other people did the same thing. We always said if we ever did win, £4 million or something, there would be four million other winners and we'd get £1. We were chuffed to bits."
The couple also said that they have no intention of keeping all the money. Patrick Connolly said that they are "level-headed people…not extravagant". Then, Frances laughingly added "yet". They plan to share their EuroMillions fortune with friends and family, but unlike other lottery winners, they have "a physical list".
The biggest EuroMillions jackpot winners from the UK were Colin and Chris Weir, who won a huge pot worth £161 million back in 2011. Another famous EuroMillions couple from the UK are Adrian and Gillian Bayford, who scooped £148 million back in 2012.
The EuroMillions has another exciting draw coming up on Tuesday, March 18th. Put in your tickets for a chance to win the £14 million pot! Good luck!