EuroMillions winner Jane Park is all over the news once again with yet another scandalous move. The Scottish lotto winner is now looking for a significant other by offering a £60,000 yearly allowance to go with the courtesy of dating her.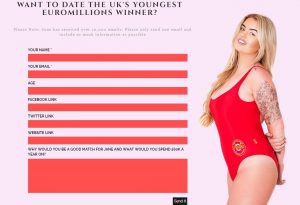 Jane has launched a website where men can apply to be her boyfriend. She will then choose one very lucky bloke and, hopefully, they will live happily ever after together. To apply, men have to fill in their name and age, as well as their social media details. Then, have to answer this £60,000 question – "Why would you be a good match for Jane and what would you spend £60K a year on?"
The interesting aspect is that the money is not meant as an incentive for men to apply, as it might seem at first. In fact, this is a means of making those who feel threatened by her wealth approach her with confidence.
Jane has made it pretty clear that the allowance should be used by the chosen boyfriend to "wine and dine her". UK's youngest EuroMillions winner wants it all. She wants a man who will love her for who she is, with whom she could spend her lotto fortune in romantic bliss.
Only one day after the website was launched, over 10,000 men eagerly applied. From there on, the extremely thorough selection process will begin. After the initial filtering, an interview process will begin. This will be filmed for a documentary that is set to air in 2019.

The process of Jane Park finding the love of her life must certainly be documented and the entire United Kingdom will be there with her as she makes her choice. There a whole lot of love coming to Britain next year!