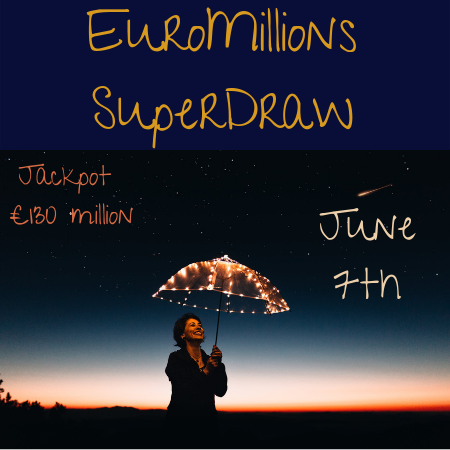 Excellent news from the EuroMillions! On June 7th, 2019, a brand-new Superdraw is coming with a huge jackpot worth €130 million! Regardless of what the previous jackpot will be, the first prize will be €130 million on June 7th.
The great news came right after the EuroMillions jackpot was won on Tuesday, April 23rd, 2019. A lucky ticket-holder from the UK has scooped the big pot worth £38 million. The winning numbers were 18-23-27-42-44/02-07.
When Was the Latest EuroMillions Superdraw?
The EuroMillions Superdraw coming up un June 7th, 2019 will be the second one this year. The first was held on February 1st and it brought a jackpot of €120 million. However, it took five more rollovers for the prize to find its winner. By that time, it had reached €175 million. It was finally won on February 19th by a single player from Ireland.
What Makes Superdraws so Special?
The EuroMillions jackpot starts from €17 million and it grows gradually with each rollover, but for Superdraws, the first prize has a guaranteed amount of at least €120 million. For the upcoming Superdraw, the jackpot was announced at €130 million.
This means that even if somebody wins the jackpot right before the draw on June 7th, the pot will still stand at a mouth-watering €130 million. All you have to do to win this amazing prize is to choose your 5 main numbers and Lucky Stars.
The draw itself follows the rules of the game, it's just the jackpot that is larger than usual. If you want to find out everything about this amazing lottery event, take a look at our Superdraws page. Save the date and put in your EuroMillions tickets for the big draw of June 7th! Good luck!