A pan-European lottery born in 2012, Eurojackpot enjoys a huge popularity because of its amazing top prizes that can grow up to €90 million. Its weekly draws take place on Friday at 21:00 EET in Helsinki, Finland.
Did you know? Now you can play Eurojackpot online with official tickets! Just click on the "play" on the below banner and you will be able to select your own numbers. Moreover, any prizes that you win are entirely yours!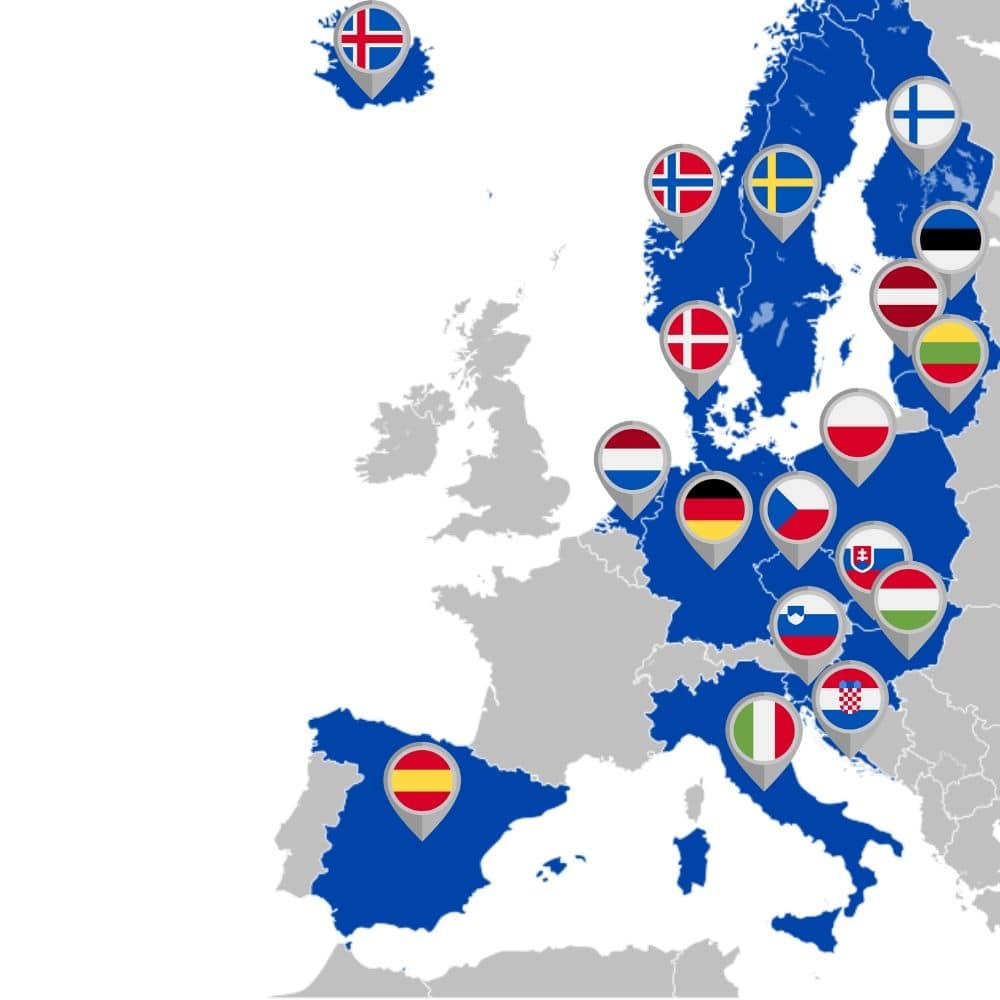 Eurojackpot Participating Countries
The official lottery operators from 18 European countries (Croatia, Czech Republic, Denmark, Estonia, Finland, Germany, Hungary, Iceland, Italy, Latvia, Lithuania, the Netherlands, Norway, Poland, Slovakia, Slovenia, Spain and Sweden) contribute to the Eurojackpot prize fund.
How much tax do you pay for EuroJackpot winnings?
The amount of taxes you have to pay on EuroJackpot prizes depends on the country the ticket was purchased in. There are 11 countries in which EuroJackpot winnings are tax-free: Slovakia, Sweden, Norway, Lithuania, Latvia, Iceland, Germany, Finland, Estonia, Denmark and the Czech Republic. In the other 7 countries, there are different taxation laws:
| | |
| --- | --- |
| Spain | 20% for prizes exceeding €20,000 |
| Croatia | Prizes up to HRK750 (around €100) are free of taxes; above this threshold, Eurojackpot prizes are subject to taxation (10 – 30%) |
| Slovenia | 15% for prizes exceeding €300 |
| Italy | 6% for prizes exceeding €500 |
| Netherlands | 29% for prizes exceeding €449,9 |
| Poland | 10% for prizes exceeding PLN 2280  (around €530) |
| Hungary | 15% for the first two divisions |
Eurojackpot vs. EuroMillions
Want to know what the differences are between the two pan-European lotteries? First of all, the numbers range is different and so are the odds of winning and the jackpots amount.
5 from 50 & 2 from 12
Numbers Range
5 from 50 & 2 from 10
€17 million
Starting Jackpot
€10 million
€190,000,000
Jackpot Cap
€90,000,000
9
Participating Countries
18
1 in 13
Overall Winning Odds
1 in 26
1 in 139,838,160
Jackpot Winning Odds
1 in 95,344,200
Tuesday and Friday
21:00 CET (20:00 GMT)
Time of Draw
Friday
21:00 EET (19:00 GMT)
Eurojackpot Prizes and Odds of Winnings
| | | |
| --- | --- | --- |
| Prize Category | Match | Odds of Winning |
|  1st | 5+2 | 1:95,344,200 |
| 2nd | 5+1 | 1:5,959,012 |
| 3rd | 5+0 | 1:3,405,150 |
| 4th | 4+2 | 1:423,752 |
| 5th | 4+1 | 1:26,485 |
| 6th | 4+0 | 1:15,134 |
| 7th | 3+2 | 1:9,631 |
| 8th | 2+2 | 1:672 |
| 9th | 3+1 | 1:602 |
| 10th | 3+0 | 1:344 |
| 11th | 1+2 | 1:128 |
| 12th | 2+1 | 1:42 |
Eurojackpot's Top Millionaires