A pan-European project with 9 participating countries, EuroMillions is Europe's most popular lottery! The idea of creating a multi-national lottery was born back in the 90s. In 2004, the first EuroMillions draw took place. Since then, its appealing prizes have attracted fans from all over the world. The EuroMillions family extended gradually and the jackpots grew bigger and bigger, creating millionaires across the continent.
How to Play EuroMillions Online
Want to purchase your EuroMillions tickets online? You came to the right place! Learn how to play EuroMillions online and buy official tickets from a reliable provider. You'll not only benefit from the comfort and security of an online purchase, but you'll be able to enjoy other advantages: more play formats and extra features to boost your odds of winning.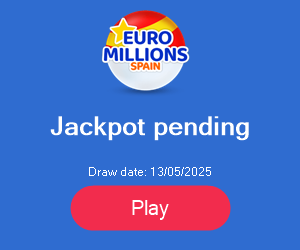 The wins are entirely yours! When you buy a EuroMillions ticket, you pay a service fee, but any prize you win belongs to you 100% (except for the taxes deducted by the country the ticket was purchased in).
It only takes a few clicks to submit your lucky numbers, so get clicking and start winning at Play-EuroMillions.com!
Don't know how? Learn all about how to play EuroMillions online and you can master everything quickly and easily.
An Abundance of EuroMillions Winners
Not convinced? Take a look at some of the past EuroMillion winners and read about the great prizes they won. EuroMillions is not one of those lotteries restricted to a certain country; it's open to all of Europe and so are the winners. If you think the winners come solely from the EuroMillions participating countries, you may be missing out on something. There are also those who won either EuroMillions prizes or the local raffles playing online.
Win Big With Europe's Biggest Lottery
Are you 'in it to win it'? Why not join many players from all over Europe winning and walking away with great prizes at Play-EuroMillions.com? With odds of winning a prize starting at 1 in 13, there's really no reason for you not to play right now. You don't want to miss out on the opportunity to scoop amazing prizes and jackpots ranging from  €17 million to €190 million. A few times a year, the European lottery organizes special draws – known as EuroMillions SuperDraws, which offer incredible jackpots of at least €100 million.
Make Your Lottery Dreams Come True
Tuesdays and Fridays used to be regular weekdays, but EuroMillions turned them into days that make dreams come true. Don't wait – get into the game now and you might become a Euro-millionaire overnight!